La directiva en Le Bataclan, la sala de concierto que fue usada como blanco de los terroristas como parte de los ataques llevados a cabo el viernes en la ciudad luz, Paris y en donde perdieron la vida 118 personas, han hecho su primera declaración oficial.

En un comunicado publicado en su pagina de Twitter se lee: Ninguna palabra es suficiente para expresar el dolor ante la magnitud de lo ocurrido, nuestros pensamientos estan con las victimas y sus seres queridos, Ustedes querrán recolectar parafernalia al respecto, pero desgraciadamente las autoridades aun estan trabajando en el lugar, nosotros le mantendremos informados para cuando sea psoible volverles a dar la bienvenida en la sala. Nosotros les agradecemos por el detalle, el cual nos ha conmovido profundamente.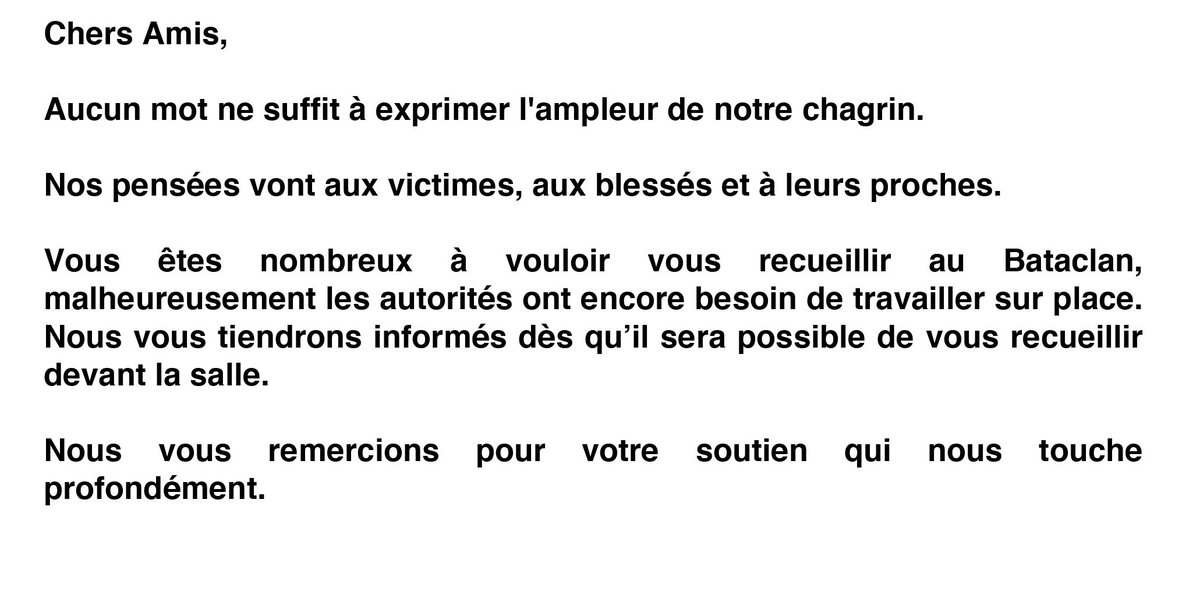 Entre las victima figuran el encargado de la mercaderia oficial de la banda Eagles Of Death Metal, Nick Alexander, quién fue el primer británico en ser confirmado como muerte entre los ataques, junto a ellos figuran el productor manager international para la Mercury Records, Thomas Ayad y el reportero para la revista Les InRocks, William B. Decherf.

Mucho músicos alrededor del mundo han redndido tributo y han reaccionando ante lo ocurrido ya que sienten directo el golpe debido a que han actuado en la sala, otros como U2 han llegado a rendir una ofrenda floral, y han cancelado el concierto planeado en Paris.

La sala Le Bataclan tiene cerca de 150 años de historia, y es considerado un pilar dentro de la escena musical francesa, entre los conciertos miticos que se han celebrado se puede contar el que reunio a John Cale, Lou Reed y Nico un 29 de enero de 1972 miembros de la Velvet Underground que no tocaban desde 1967, el concierto único y legendario y de este emergieron una serie retransmisiones en la televisión, así como ediciones limitadas pirata.
Su nombre deriva de la opereta temática oriental de 1885 cortesía de Jacques Offenbach la cual usaba el mote Ba-ta-clan, la sala supero un incendio y a partir de 1969 terminó reciclandose nuevamente como una sala de conciertos, actuaciones y sesiones de discoteca.
El 50 del Boulevard Voltaire era conocido porque varias generaciones del rock se reunieron allí para presenciar conciertos de bandas en ascenso como The Police, The Cure, Oasis, Hole, ya que ofrecía un espacio único e intimó por su capacidad de 1,500 personas, aquí se grabaron directos legendarios de mitos como Jeff Buckley, Jane Birkin o Gong.